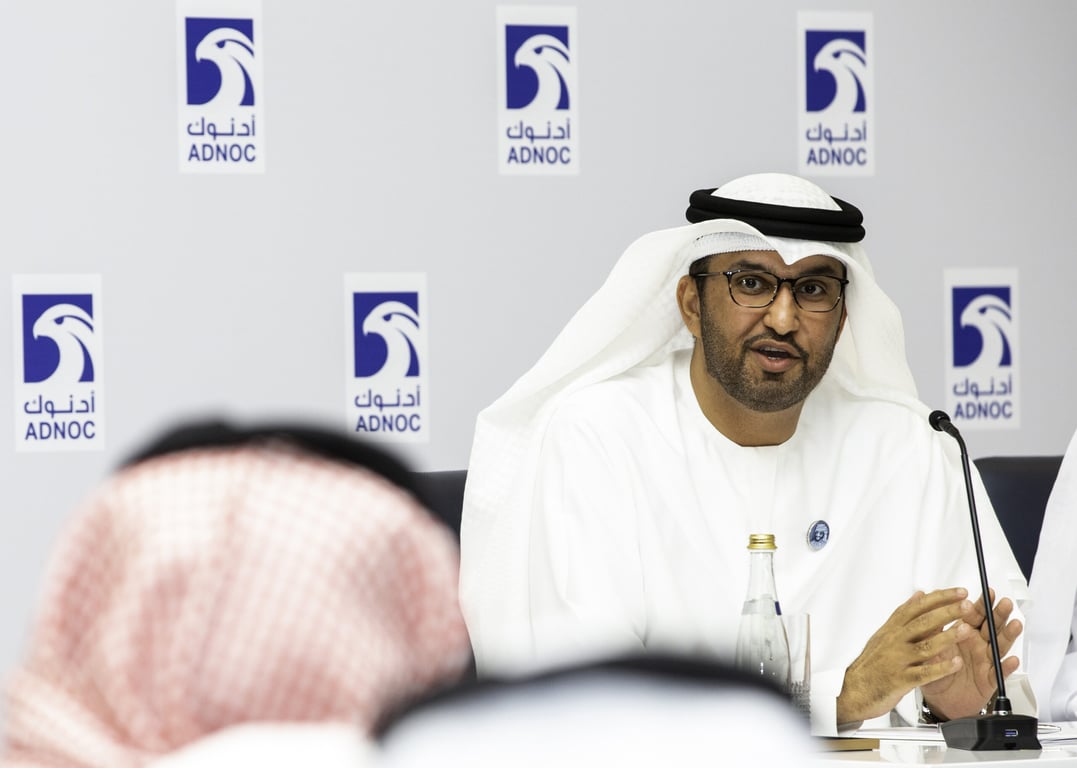 The UAE considered dropping the word 'oil' from the name of its state-owned oil company as part of a major green rebrand ahead of hosting the Cop28 climate summit later this year.
Executives from the Abu Dhabi National Oil Company (Adnoc) – whose CEO, Dr Sultan Al Jaber, has been appointed as Cop28 president – made the suggestion as part of a brief distributed to advertising agencies invited to pitch for the contract last year, which was obtained by the Centre for Climate Reporting (CCR) and Drilled.
Al Jaber is overseeing a $150 billion expansion plan over the next five years, which includes a major increase in oil and gas production. But the company wants to promote itself as a provider of "low carbon energy" that is "helping to build a more sustainable energy future for all", according to the leaked documents.
The 'National Oil Company' portion of its name makes it a "target for potential criticism", a presentation shared with agencies states. It also says that the suggested rebrand "complements UAE positioning leading up to Cop28" and identifies the period before the summit as an opportunity for "amplification" of the new name.
Cop28 has been mired in controversy since Al Jaber, who also serves as the UAE's Special Envoy for Climate Change, was announced as its president in January. It's the first time a CEO of any company, let alone one from the fossil fuel industry, has been selected to lead the summit, which is hosted by a different country each year. Some politicians and climate activists say Al Jaber's appointment is a conflict of interest. In May, 130 US and EU lawmakers signed a joint letter calling on Al Jaber to be removed from his post.
The rebrand plans are just the latest step in a major public relations push at Adnoc since Al Jaber took the helm in 2016 and was tasked with modernizing the company. The new look Adnoc will position itself as "a disruptive, ambitious, and confident energy company of the future" which "will invest and operate across the energy spectrum – from hydrocarbons and hydrogen to new and emerging energies," the contract brief states.
"Man of the people"
The leaked brief was sent to advertising agencies in the autumn of last year. But Adnoc has been working with outside groups for years in an effort to position the company as an "innovative 'NOC [national oil company] of the future'."
In an interview with an advertising industry news website in 2018, Adnoc's then head of communications explained how the company had turned to some of the world's biggest public relations firms to help tell Adnoc's "transformation story" in the hope of attracting international investment. One of those was the Middle Eastern arm of Burson Cohn & Wolfe (BCW), which began working with Adnoc in 2017.
A key challenge identified by Adnoc and its agency was how to balance Al Jaber's competing reputations as an "uncompromising change agent (a 'fixer') vs. compassionate community pillar (a 'man of the people')," according to industry award entries submitted by the company in 2019 and 2020 and obtained by CCR.
The answer to that problem was a scheme known as 'Oil & Gas 4.0', which was launched in 2019 as a platform for Al Jaber to promote how Adnoc is adopting new technologies, attracting new talent, mitigating its environmental impact and working with new partners. Al Jaber began to speak of Adnoc as less of a state-owned behemoth and more like a start-up, announcing at a conference that the company was embracing "digital disruption" by pumping money into artificial intelligence, virtual reality and advanced analytics.
The awards submissions are held by the marketing industry intelligence firm World Advertising Research Center (WARC) and have not been previously reported. They reveal the extent to which Adnoc and BCW pushed Al Jaber as a "forward-thinking and pioneering leader playing a key role in the development of a modern and progressive United Arab Emirates" – in many ways laying the groundwork for his future role as Cop28 president.
They pursued this "positioning objective" via media partnerships; visits by Al Jaber to foreign heads of state; and by funding a series of major events organised by the likes of the Washington-based Atlantic Council. They also engaged "influencers" who pushed 'Oil & Gas 4.0' on social media and attracted high-level advocates such as Pulitzer Prize-winning author and oil industry commentator, Daniel Yergin, and former BP CEO, Bob Dudley, the documents claim. Dudley has recently been named as part of the Cop28 advisory committee appointed by the UAE.
Adnoc and BCW did not respond to CCR's requests for comment.
Al Jaber "spearheaded a sweeping, full-scale business transformation to ensure Adnoc can thrive in the fast-evolving energy landscape," one awards submission states, claiming that this helped Adnoc raise more than $19bn and become one of the world's most valuable oil and gas brands. At the time, Adnoc was unequivocal about that energy landscape: for the foreseeable future, at least, "oil and gas will remain essential".
"What's in a name?"
More recently, Adnoc has explicitly pushed its role as a key player in the energy transition as the world moves away from fossil fuels. The company announced "sustainability goals" in 2020 — the same year Al Jaber was appointed as the UAE's Special Envoy for Climate Change — which focussed on how it is "one of the least carbon-intensive oil and gas companies in the world". As part of the plans, Adnoc aims to reduce greenhouse gas emissions by 25% by 2030.
Indicative of Adnoc's shift in messaging in recent years, one award submission boasts that in 2019 it had "leveraged" a $4bn oil pipeline deal the company struck with major international investors to "position H.E. Dr Sultan Al Jaber as a pioneering leader". Last month, however, CCR revealed that an Adnoc employee had recently tried to delete reference to the very same deal from Al Jaber's Wikipedia page, leading to accusations of "greenwashing."
Yet Adnoc has continued to face a fundamental problem – the difficulty of positioning an oil company as a climate ally.
In the place of 'Oil & Gas 4.0', Adnoc is now touting a new scheme known as 'Accelerate 100X'. It is aimed at "capitalizing on the evolving energy landscape, future-proofing the company during the energy transition and maximizing value for the UAE". It's under the 'Accelerate 100X' scheme that Adnoc suggested changing its name to something that "reinforces our commitment to the energy transition".
"When I hear about these rebranding exercises lately, where companies say "energy" instead of "oil" and toss around terms like "net zero" and "sustainable," I think to myself that those companies are getting really desperate if they think that's going to work," said Melissa Aronczyk, a professor at Rutgers University and expert on PR by the fossil fuel industry. "They know their reputation is expiring and they're trying every trick in the book to lengthen their shelf life."
"What's in a name?," the leaked presentation asks. "We are increasingly aware of the reputational challenges posed by our brand name and positioning." Adnoc executives asked advertising agencies to plan the launch of a new holding company "above the Adnoc brand" which would allow it to "future proof the company, without compromising or undermining the equity of the Adnoc brand".
CCR understands that Adnoc has now decided not to change its name in the run-up to the conference, although the idea of a name change in the longer term has not been ruled out.
The leaked documents repeatedly cite other major fossil fuel companies, including Norway's Equinor, which changed its name from Statoil in 2018. It also cites Total's rebranding to TotalEnergies in 2021 as a reflection of the company's "green transition". That same year, Total had more new oil and gas production projects than any other European company, according to Le Monde. Similarly, last year Adnoc brought forward targets to increase oil production capacity to 5 million barrels per day by 2030 to 2027 and, earlier this year, held an initial public offering of a new business that will export natural gas around the world.
A version of this story was also published by The Times London and The Centre for Climate Reporting