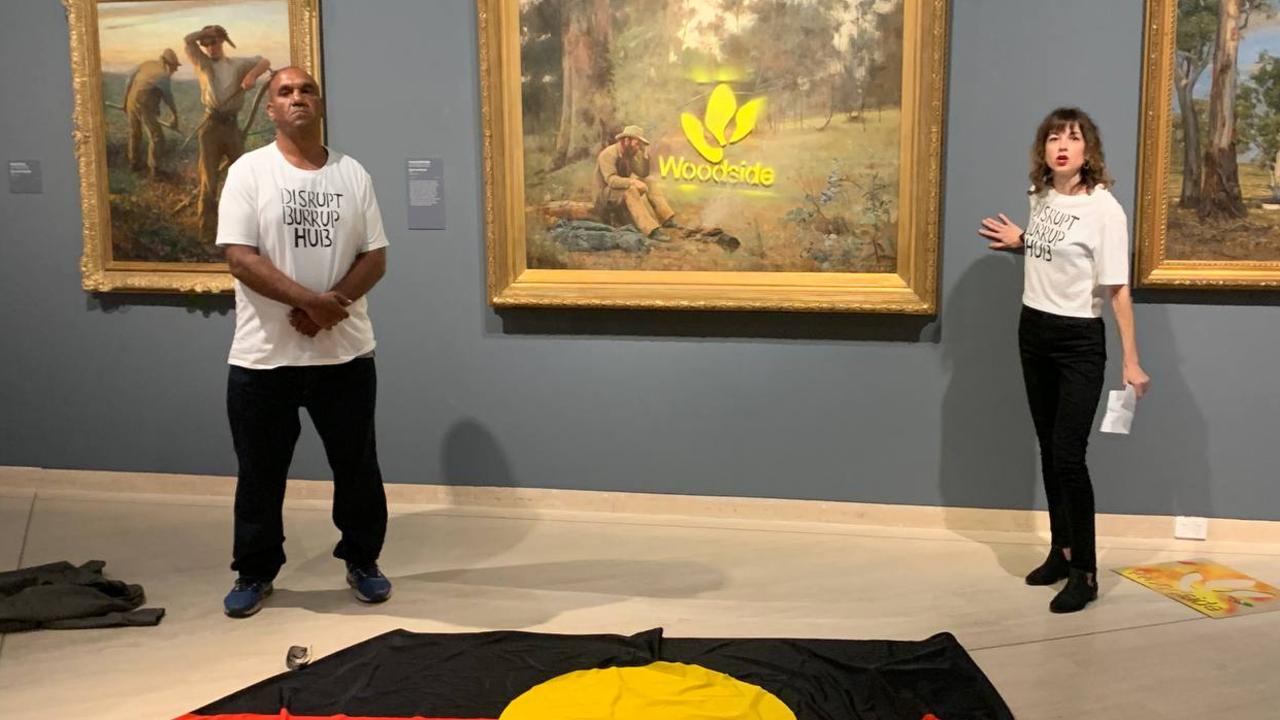 At the Art Gallery of West Australia earlier this year, activists protesting the massive Burrup Hub gas project spray painted the logo of Woodside, the company responsible for that project, on a painting.
"This painting is barely 100 years old. We have five 50,000-year-old artworks that Woodside is destroying," Ballardong Noongar man Desmond Blurton said, standing in front of the painting.
By expanding the Burrup gas project with two new gas fields at Browse and Scarborough, Woodside is planning to emit an estimated 6 billion tonnes of carbon dioxide emissions. Woodside's plans could also see ancient paintings that have survived tens of thousands of years, disappear. But Australia's politicians seem more concerned with spraypaint on the plexiglass covering modern artwork in museums.
Across the globe, the growing backlash to climate protest has led to the passage of laws criminalizing protest, and that's true in Australia as well. Since 2019, the majority of Australia's states have passed laws criminalizing protest, all as a response to increasing climate protests.
In 2019, protests against a coal mine in the Australian state of Queensland were making international headlines.
Indian billionaire Gautam Adani was planning to build a coal mine in Queensland's Galilee Basin, and a train line to the city of Mackay where the coal would be shipped out past the Great Barrier Reef.
Protests against the mine even spread to India, where activists were accused of being under foreign influence for speaking up against an Indian company. At the same time, Adani, a multinational Indian company, was not shy about lobbying governments in Australia to cut off Stop Adani activists funding.
Activists with the Stop Adani movement tried to stop the train line from being built by chaining themselves to the tracks. In response, the Queensland Resources Council, a local industry trade group, backed new legislation called the Dangerous Attachment Devices Law. The law claimed that the various types of chains, glue, and locks activists had been using to attach themselves to mining equipment, roads, and bridges were dangerous to both first responders and the activists themselves.
It gave police not only the right to impose heavy fines and sentences on protesters arrested with these devices, but also to stop and search anyone suspected of having an attachment device on them without a warrant. The new powers alarmed UN human rights experts, who put out a statement describing them as inherently disproportionate.
But the Queensland Resources Council argued the law didn't go far enough, and Scott Morrison, who was the prime minister of Australia at the time, was happy to lend his voice to their campaign.
"A new breed of radical activism is on the march," he said in a speech to the Queensland Resources Council as the legislation was making its way through the government. "Apocalyptic in tone. Brooks no compromise. All or nothing. Alternative views not permitted."
"You see industry talk about how important it is to the economy, and then representatives of government sort of get up and say that back to industry," Vanessa Bowden, a sociologist at the University of Newcastle, Australia said.
Right-wing think tanks and public relation firms have been accusing environmental activists of extremism since at least the 1980s. The characterization has become so common that it's even being questioned by UN Secretary General Antonio Guterres.
"Climate activists are sometimes depicted as dangerous radicals. But the truly dangerous radicals are the countries that are increasing the production of fossil fuels," Guterres said recently. "Investing in new fossil fuel infrastructure is moral and economic madness."
The gallery protest against Woodside in early 2023 made international headlines. But activists have been protesting against the Burrup Hub for years, and during that time they've also been followed around by Western Australia's counter terrorism police. Counter terrorism police regularly raid the homes and offices of Disrupt Burrup Hub activists, as well as journalists who cover the protests.
During the raids, the counter terror police spend hours combing through computers, phones and other personal belongings. All this surveillance explains why the Disrupt Burrup Hub activists who went to the beachside home of Woodside CEO Meg O'Neill in August 2023 say that counter terrorism police were already inside before the activists arrived.
"I never set foot on the property of Woodside CEO Meg O'Neill, but was ambushed by more than a dozen counter terror police lying in wait for me," Melinda Lane Rose, a 19-year-old Disrupt Burrup Hub activist who was arrested outside O'Neill's home, said at a press conference following her arrest.
That didn't stop the press, Woodside CEO Meg O'Neill, or even pro-climate-action politicians from publicly scolding the activists. "What happened Tuesday has left me shaken, fearful, and distressed," O'Neill said. "I'd like to thank the Western Australian police for their swift response and acting to ensure the safety of my family." Sky News, predictably, echoed O'Neill's framing, calling the Disrupt Burrup Hub "climate extremists" and their proposed action an "aggressive protest."
But Chris Bowen, Australia's Minister for Climate Change and Energy, joined the chorus too, tweeting "there is zero place or tolerance for attacks on private homes & families like we have seen on Meg O'Neil. This is not OK."
Yet despite O'Neill's description of the activists as extremists being repeated widely, accounts of what happened at O'Neill's home that morning differ. The activists have not been charged with trespass, only with the intent to commit an offense. And they say that counter terrorism police were already inside when they arrived outside O'Neill's home.
As protest-criminalization bills spread through the country, so too do climate impacts. As climate change worsens, more and more climate change activists in Australia are speaking from personal experience.
"And there was ash falling from the sky, burnt leaves falling from the sky all over Greater Sydney," David Shoebridge says of the protests during the 2019-2020 bush fires. Thick smoke made outdoor protests difficult for months but that didn't stop student activists from gathering outside then-Prime Minister Scott Morrison's official residence in Sydney. Shoebridge, who is now a federal senator for the Greens, went to the protest with his youngest daughter and was one of the people arrested on the day.
"After about two hours of a standoff, they just lined up the riot squad, and just marched them in," he said. "I remember them performing together, they reminded me of a bunch of sort of puffed up turkeys and then went in and surrounded all these poor kids and started arresting them and moving them on."
Australia now has a Federal Labor Government, which has introduced a modest target of reducing emissions by 43% by 2030. Political party doesn't seem to matter, though. In Queensland, Victoria, Western Australia and South Australia, it's been Labor state governments that have criminalized environmental protest.
"There's not a lot of self awareness in the state parliament about the kind of irony of putting in laws to arrest people for these relatively minor inconveniences when the impacts of the climate crisis we're facing are causing not inconvenience, but loss of life, substantial loss of life, huge loss of property," Shoebridge said. "I think the most recent floods created the single largest insurance payout ever in Australia's history. Billions and billions and billions of dollars."
In the years since the fires, there have been fewer major street protests against climate change in Australia, but activists have been organizing in new ways.
People speaking out about climate change include the former captain of Australia's rugby team, who was elected as a senator after being arrested in a climate protest. In recent years, psychologists, firefighters, veterinarians, doctors and even marketing professionals have been actively organizing around their profession's response to climate change as well.
They include bushfire survivors who successfully sued the New South Wales Environment Protection Agency. And people living in suburbs that flooded along the Brisbane River who have adopted a community organizing approach that saw an unprecedented three Greens MPs elected to federal parliament.
Despite the fact that the police crackdown on protests seems to be intensifying, activists are more confident than ever that their activism is necessary and important.
"The concern that I have as an elder is not about my future, it's about our future generations," Gunnai-Kurnaiand woman and climate activist Marjorie Thorpe said. "I think that's what we need to really put front and center here. Because everything is interconnected, and that's what our stories tell us. We have to fight for this. This is the spot for our very future. And if and if we can stand up and do that, well, that's what we have to do. And if they want to lock us up, we'll lock us up, but we have to continue to resist that."